For several years, since we have Iceland on the bucketlist, we decided to explore it with a campervan. In addition to the obvious economic reasons, it seems to us the best way to explore a country so rich in unreal and diverse landscapes – glaciers, volcanoes, waterfalls, black sand beaches or incredibly blue thermal pools. We believe that Iceland should be visited at least twice: once in winter and once in summer, to enjoy the diversity of the seasons. We started with a first vacation in Iceland in winter, to explore the ice caves of The Land of Ice and Fire, which can only be visited in winter, but also other wonderful places.
Here's a list of all that I'll be covering in this article – feel free to jump to the section of interest:
How do we rent a campervan?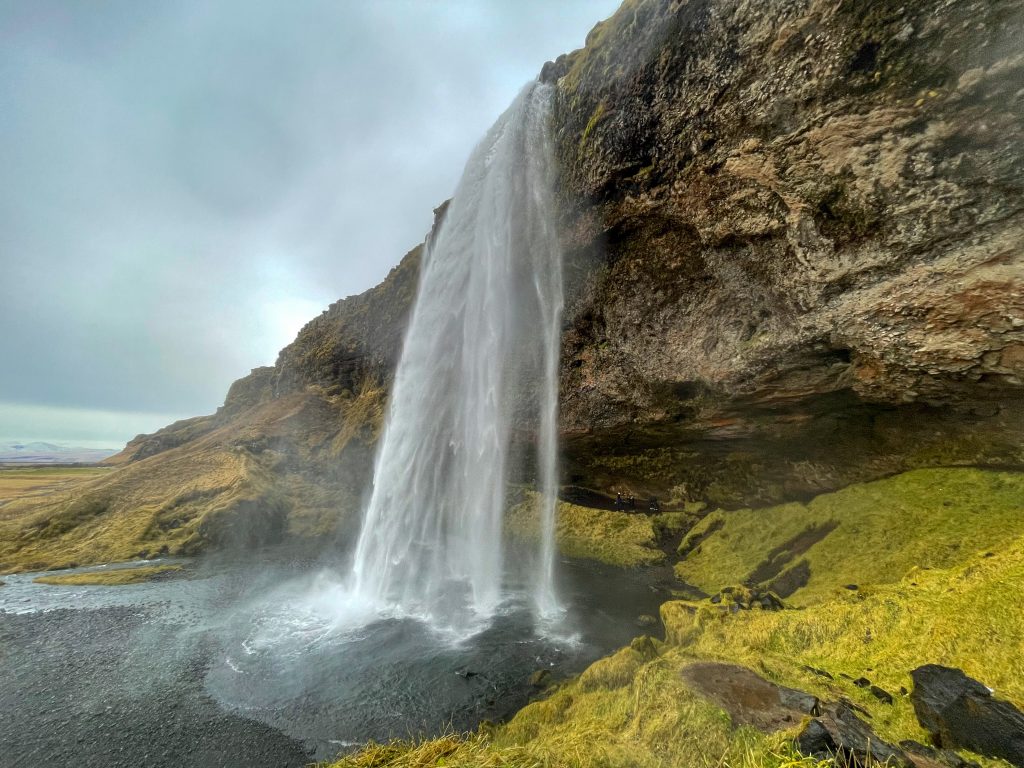 The culture of camping with a motorhome in Iceland is quite popular, so there are several companies that rent motorhomes in Reykjavik, the capital of Iceland. We also chose the company according to the campervan, finding the most suitable camper for us at Kuku Campers.
It is very easy to book – online, the payment is made by card on their website. We had to choose between making the entire payment upon booking or only 25% of the value, the rest to be paid when we pick it up. Also now, you can choose extras – insurance of several kinds and various objects necessary or useful for camping. I will talk about these in more detail in a separate section below. You do not have to choose them now, they can be picked up when you pick up the van too. We booked some with the initial campervan booking, others on the spot, when we picked up the van. There is no deposit fee to be paid for the motorhome at Kuku Campers.
Tips for renting a motorhome in Iceland in winter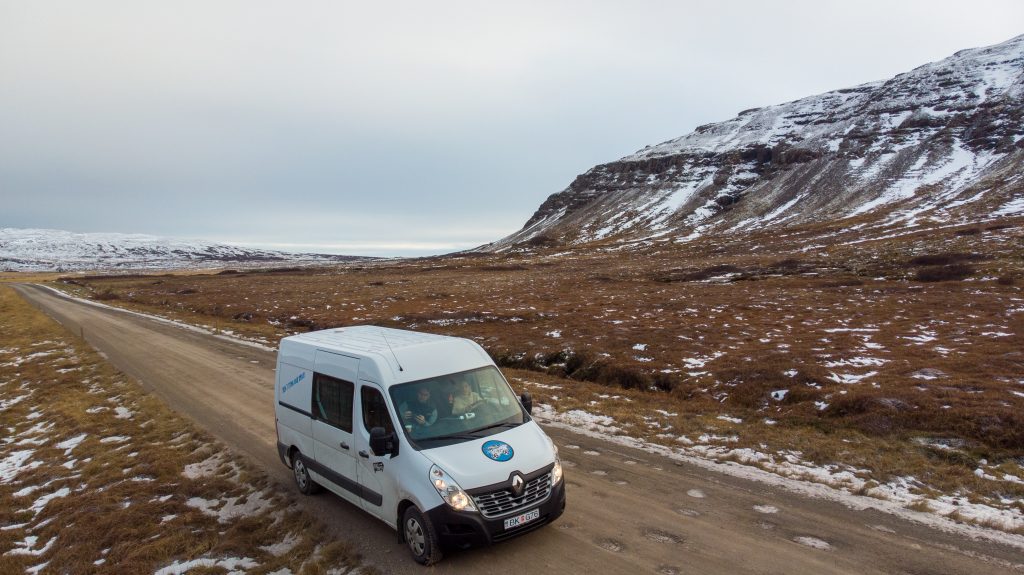 There are a few things to keep in mind when renting a campervan in winter in Iceland, but they may also apply in other seasons:
A very important thing in the cold season is that the campervan comes with a heater. In the campervan description, you need to identify an overnight heater message, or something similar.
The prices of the extra products you need – bed sheets, sleeping bags, etc. Most campers in Iceland, from what I have noticed, come without bed linen, pillows or duvets, but only with the mattress. So, it is good to know if you have to pay for them, how much they cost, or if you want to bring them from home. We found that it would have been about the same price to rent the necessary ones from Kuku Campers with the price of an extra checked baggage, so we brought ours from home. Anyway, it's good to know that you will find everything you need in the same place where you rented the campervan, so you won't have much trouble if you don't want to.
Campervan type – Once you have decided how many people you will be on this trip, choose a van suitable for your group. It is important to check the number of sleeping places and the number of transport places. From what I noticed, most motorhomes are for 2, 3 or 5 people, but there are many more dimensions and factors that differentiate them. On the Kuku Campers website I found not only the description of the caravan, but also many pictures and even a video with the presentation of the car, which helped me a lot – I like to visualize the space where I will live :)) After visualizing these, we chose a camper of 5 people for the two of us (Campervan C, if you want to see it), to have more space – especially this standing space when you cook and the dining area very useful, being winter. In summer, we would probably choose a smaller campervan, because we can also cook outside, next to the campervan.The price we paid in November was 1030 euros for a week, but the smallest motorhomes had prices starting at 430 euros.
4×4 – if you plan to go on mountain roads, but also for extra safety, a 4×4 can be very useful in Iceland. We didn't have a 4×4 this time, but if we come back sometime in the summer, we will seriously consider taking one, so that we can reach the more remote areas as well.
Refrigerator, stove and other necessary utensils – make sure they are included, if you do not plan to only eat out. And if you want to save some money, you will surely cook most meals in a campervan or campsite. From my observations, all the caravans had a stove (of different sizes), but not all of them had a refrigerator, so don't forget to check.
The weather is always capricious in Iceland, but in winter it can be dangerous. The biggest enemy seemed to be the wind. It is so common for the wind to be strong, that you will be advised when lifting the campervan (at least that's what happened to us) how to park it when the wind is strong: with the windshield towards the wind direction, not the side. And be very careful how you open the door when it's windy – it's so common to be crushed by the wind, that there is a special insurance for that. The lady from Kuku Campers told us to always check where the wind is blowing from and to hold the door with both hands. Their advice was very helpful. The official website where you can check the weather for Iceland, very well developed and with current information is en.vedur.is – save it, it is very useful.
Roads

Iceland is doing well in terms of roads, with a ring-shaped highway around the country called Ring Road. But there are also many gravel roads, or so-called F Roads, meaning mountain roads, which lead to the interior of the country. F Roads are generally very bad roads, with many potholes, dirt / gravel, sometimes crossing rivers. On these F Roads you are only allowed with a 4×4 car, so we did not enter any of them.
Road closures are common in Iceland due to the weather, so our best friend was the site road.is, where we constantly checked the condition of the roads. Very important in winter, but not only.
How did we warm up?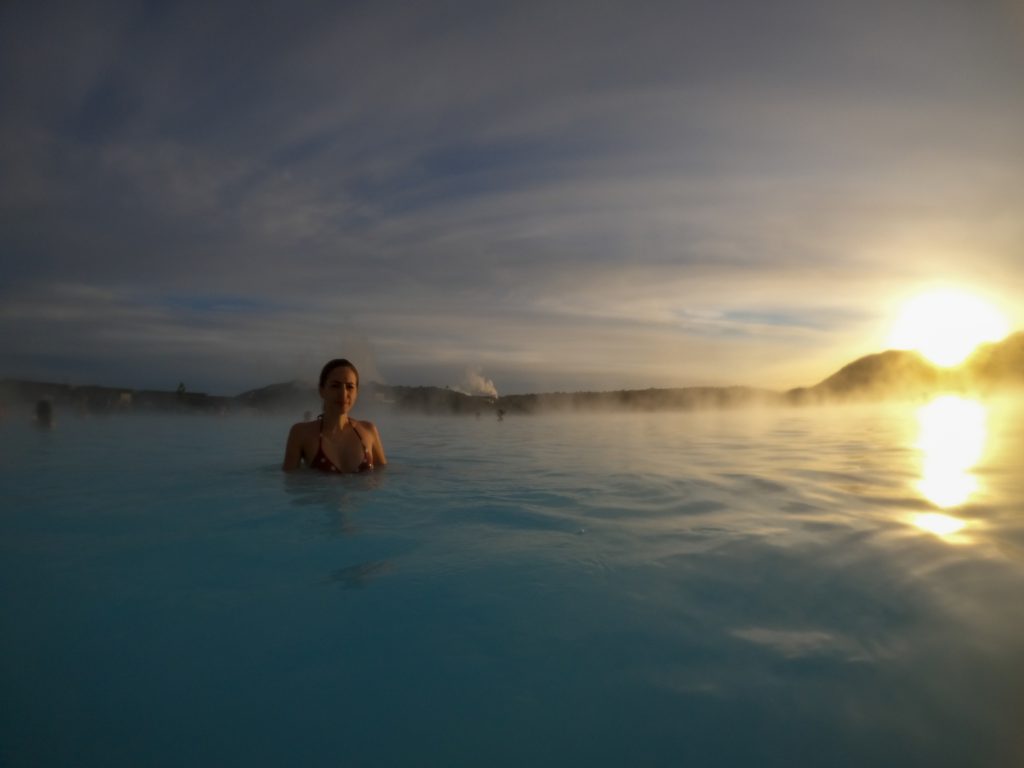 A frequently asked question – I said above that we rented a motorhome with an overnight heater. It works on a separate battery that charges while driving, in 2-3 hours and had a range of 9-15 hours, we were told. We used it all evening (from 5-6PM when we arrived at the campsite, on some evenings), until the next morning. We never ran out of battery and it wasn't cold either – most of the time, we couldn't keep the heat to the maximum, as we were suggested, it was too hot.
I also said above that we brought our own sleeping bags – these were not for the cold season, but for temperatures of about 10 degrees. So kind of like a normal duvet at home. They also kept us warm, but surely the heater integrated in the caravan did everything.
How do I get from the airport to the rental office?
Motor cars are not rented from the airport, but from Reykjavik, which is about an hour from Keflavik airport. There are several ways to get from Keflavik International Airport to the rental office:
With a shuttle offered by the company from which you rented the caravan, which in our case cost 35 euros (for both of us), one way. It can be used only during the office hours and can be reserved when booking the car or when picking it up, for the return transfer.
By public bus, the price is 13 euros per person.
By taxi, but it is extremely expensive – around 200 euros from the airport in Reykjavik.
By private shuttle.
It is good to know that the campervan can not be rented at any time you arrive, but only in the interval when the company's office is open – in our case, Kuku Campers has a daily schedule from 8AM to 6PM. So, if your flight arrives outside this time slot, you may need one night accommodation. It happened to us, the flight from Budapest arriving around 8PM.
So, we had to use the public bus when we arrived, paying 26 euros for both and the shuttle when we left, with 35 euros for both. There is also a third option, to stay one night near the airport and take the shuttle the next morning, but we found it more uncomfortable, not finding a hotel right next to the airport, where we can walk. Of course, the most convenient was by shuttle from Kuku Campers, which took us from the parking lot where we left the car in front of the airport.
The public bus wasn't bad either, works right on schedule and we even had wifi in it, but we changed the line at one point. We only waited about two minutes between buses, but we still had to move our luggage from one bus to another.
If you are interested in the public bus, line 55 leaves from the airport to Reykjavik. The route takes about an hour, and tickets can be purchased directly from the driver, payment by card. The 13 euro ticket is valid for two hours, we used it on both lines and the company that deals with public transport in Iceland is called Straeto – they also have an application where you can buy tickets in advance, plan your route and more.
What will you find in a Kuku Campers caravan
When you rent a campervan from Kuku Campers, you will definitely find in it a stove (the size depends on the caravan) and everything you need for cooking and eating, for the maximum number of people that can fit in the car. Frying pans, pots, cutlery, plates, bowls, glasses and other necessary utensils can be found in the camper. The refrigerator is not always included, so it is good to check each campervan separately. A mattress on which you can sleep is always included, but not the bed linen / sleeping bags, which can be rented for an additional price. Dishwashing detergent, sponge and a small broom to keep the van clean are also included.
Extras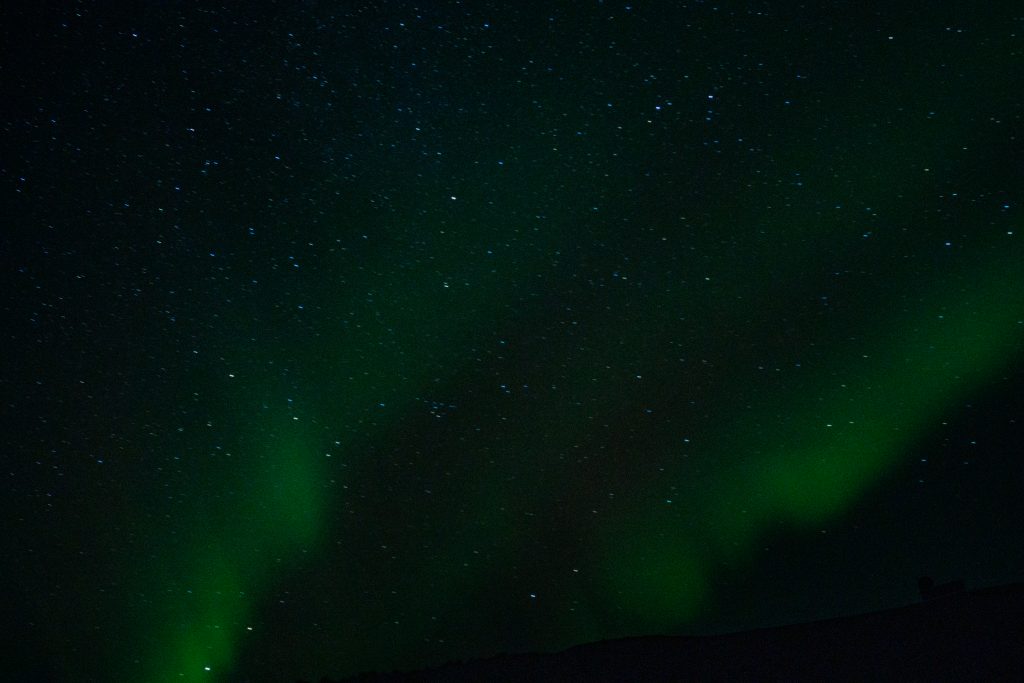 In addition to the ones mentioned above as being included in the package when you rent the camper, there are some extra things that could be useful to you. These are the extra products that can be rented / bought from Kuku Campers, and below I mention some of the more important ones:
Sleeping bag – if you do not bring your own or do not have space in your luggage, very necessary – I mentioned above that the camper comes only with the mattress
Pillow
Blanket – for extra comfort, not super necessary
Refrigerator – if not included, can be rented separately
Towel – in case you do not bring it from home
Small gas canister for cooking – for caravan C from their portfolio, we had CP250 canister and we were told that one lasts 2-3 days. But we only used one in a week, because on some days we cooked in the campsite kitchen, and on a few occasions we ate out. Anyway, we cooked at least 10 times in the camper, so it kept us going. We had 2 canisters and we would do the same next time, to make sure it's enough. But in case you run out, they can also be bought at gas stations.
Wifi router – very useful if you want to connect multiple devices. We bought a local sim card and added it to the phone as a secondary sim card, then used it as a hotspot. This was also a good option.
Power inverter – it was very useful for me, I didn't have a phone charger with USB output, so I used it to charge my phone while driving, but it's optional.
Insurance available for campervans in Iceland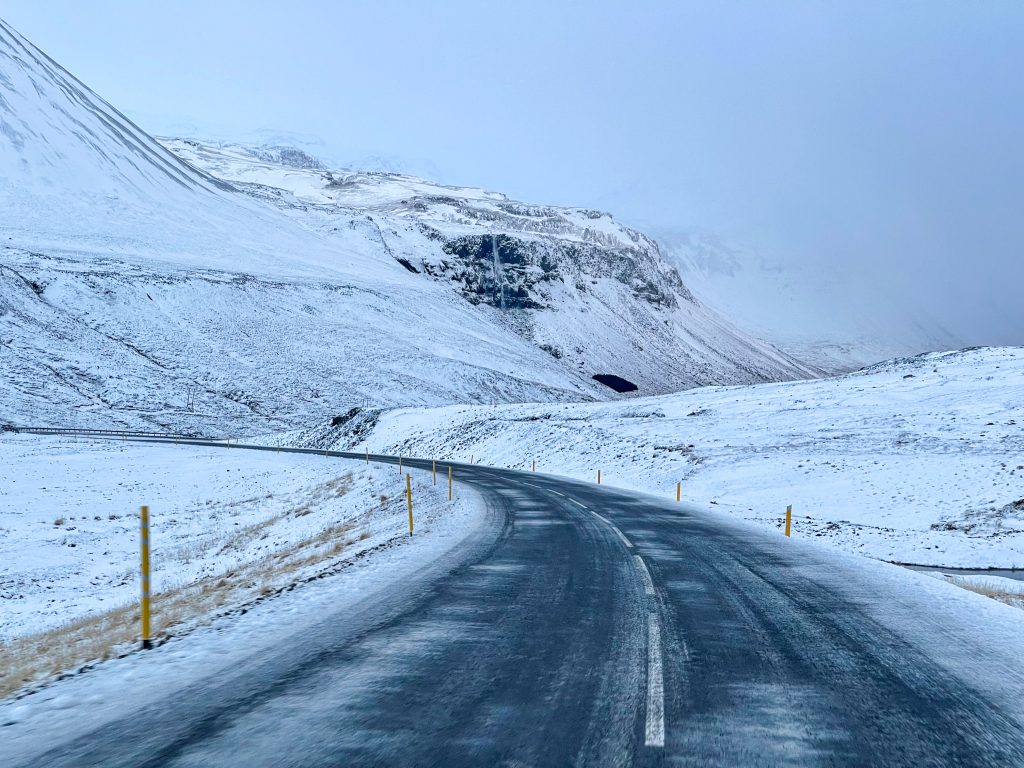 From the insurance category, very important in Iceland, in any season, is the insurance for gravel roads – Gravel Protection. It happens very often that the pebbles from these roads jump in the windshield and shatter it, so we booked this insurance. There is also insurance for sandstorms and many other optional packages, while Collision Damage Waiver insurance is included. You can read about all of them on the renter's website.
Tips for camping in Iceland in winter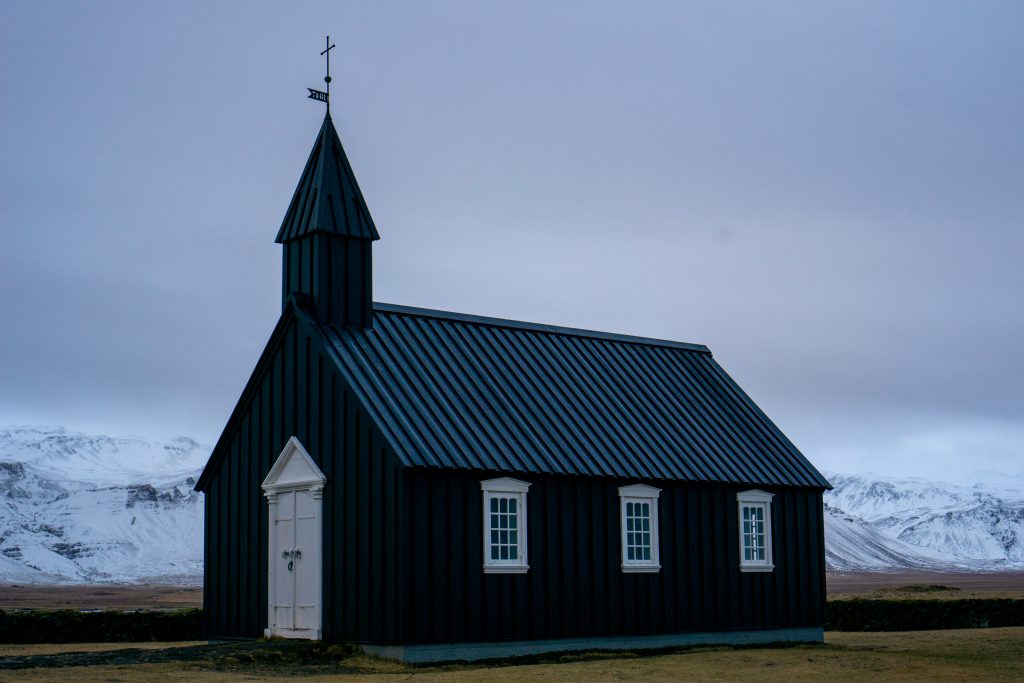 Camping in Iceland is illegal outside campsites, so it's important to know where you find them. In general, we would have used the Park4Night application, but in winter not all campsites are open. So I used almost exclusively a map made by Kuku Campers, which includes all the winter campsites in Iceland. This is the link to it and I'd say it is mandatory for camping in Iceland in winter. Even so, I advise you to always call before going to a campsite, to check if it is open and if the shower works – in winter it happens not to, if the pipes are frozen, in some campsites.
Review Campsites from our vacation in Iceland
Many people also asked me what camps we stayed in in Iceland. We didn't always stay at the best ones, we camped where our day ended. We had a few more on the list that I really liked and that I would have liked to get to, but they would have ruined our plans with the aurora borealis route and roadtrip route. This is a list of those we stayed at and a short review about each one:
Hotel Fljótshlið and Smáratún Campsite – the location is nice, on a farm, but the showers did not work and the bathroom (a toilet and a sink) and kitchen were not the cleanest. The kitchen was fully equipped. We were the only clients and paid ISK 3000 (20 euros) per night for two people.
Kirkjubær II Campground – we really liked it here, it was clean, and in the kitchen there was an area with many sockets for charging phones / laptops / cameras, etc. The kitchen was fully equipped. The only downside is that the shower was with coins, 300 ISK 5 minutes – I bought the coins from them, we did not have any cash the first 5 days of the holiday. It cost us 3600 ISK (25 euros) camping for two people, with shower included. Check in from 6pm to 9pm.
Egilsstaðir Campsite – here the bathroom was big and clean, but the kitchen was very small and not very tidy. There was no stove in the kitchen and there were only two small tables for 2 people each. It cost us 4000 ISK (27 euros) for two people and the reservation and payment is made only online.
Búðardalur Campsite – a very small campsite near a school yard. The kitchen was tiny, I only washed dishes in it. Two toilets and two unisex showers. It cost 3600 ISK (25 euros) and it was the only place where we couldn't pay with the card, their POS didn't work.
Grindavik Campsite – I think this was our favorite – very close to the airport, Blue Lagoon and the volcano that erupted this year, with very well maintained utilities, spacious kitchen with electronic charging spaces, with a no-shoes policy.
That's about our experience with the caravan in winter in Iceland. We hope that we have answered all the questions and curiosities, but if there are any left, leave them in the comments and we will gladly answer. More photos and videos can be found on our Instagram page too.
Safe travels!