A few days ago, we managed to tick one more destination on our wish list – Switzerland. Being my first trip to this country, I read a lot about what area is best to visit – I wanted mountains and a lot of nature, not cities. I really missed the mountains and the crisp fresh air after a month in French Polynesia! I found several interesting areas, but the Jungfrau Region had the most sights I wanted to visit. I had 5 days available. Perhaps many would have chosen to visit more of Switzerland, but we found it more optimal to visit this region only, which has so much to offer. So, our first vacation in Switzerland was in the Jungfrau Region, images that will stay on our retina for a long time to come.
How we got to Switzerland
We took a flight. We chose Basel as our landing point, a city on the Swiss-French-German border where several low-cost companies fly. We flew from Budapest with EasyJet and returned with WizzAir. These flights fit best with our itinerary. But you can also fly with WizzAir from Romania to Basel, from Cluj, Sibiu, Bucharest, maybe other cities too. As usual, we left the car in the airport parking lot in Budapest, where they have very good prices, if you book in advance.
How we got to the Jungfrau Region in Switzerland
After landing in Basel, we initially thought of renting a car to get to the Jungfrau Region (approx. 2 hours drive) and get around. But, after reading more about the region, I found out that many mountain villages, which we also planned to visit, are car free, meaning you can't get there by car, only by train or cable car. So we opted for the train to get from Basel to the Jungfrau area.
I bought the tickets from the official website, in advance. The price fluctuates slightly depending on the day and time, and there are a number of fixed tickets at a lower price. This means that the ticket is strictly for that train ride, from point x to point y. The cheapest fixed tickets are called "Supersaver Ticket".
There is also the option to buy a ticket for that route, but in case you miss the train, you can take another one that day, with the same point of departure and arrival. These are called "Point-to-point Tickets". We missed the train when we arrived because our flight was delayed, so I advise you to either take more time between flight and train or buy a flexible ticket. You can rely on trains and buses in Switzerland, they come very often at fixed times.
So, from Basel Airport to the Jungfrau area, we arrived:
Basel EuroAirport >>> Basel Bahnhof (train station) – Bus 50, leaves every 10 minutes, sometimes even more often, from the Swiss area of the airport (and from the train station as well). The ticket costs 6.10 Swiss francs (CHF) and can be purchased right from the station, form a vending machine (in both the airport and train station). Payment is made by card and the bus ride duration is between 16-23 minutes (we arrived in 16-17 minutes each time).
Basel Bahnhof >>> Interlaken (or final accommodation destination) by train. We also had a bus from Interlaken to the final destination, all included in the ticket price. The total journey time was 2 hours and 15 minutes.
Here is the timetable for Bus 50, which runs between the airport and Basel train station.
Here is the official trains site in Switzerland, where you can buy all your tickets.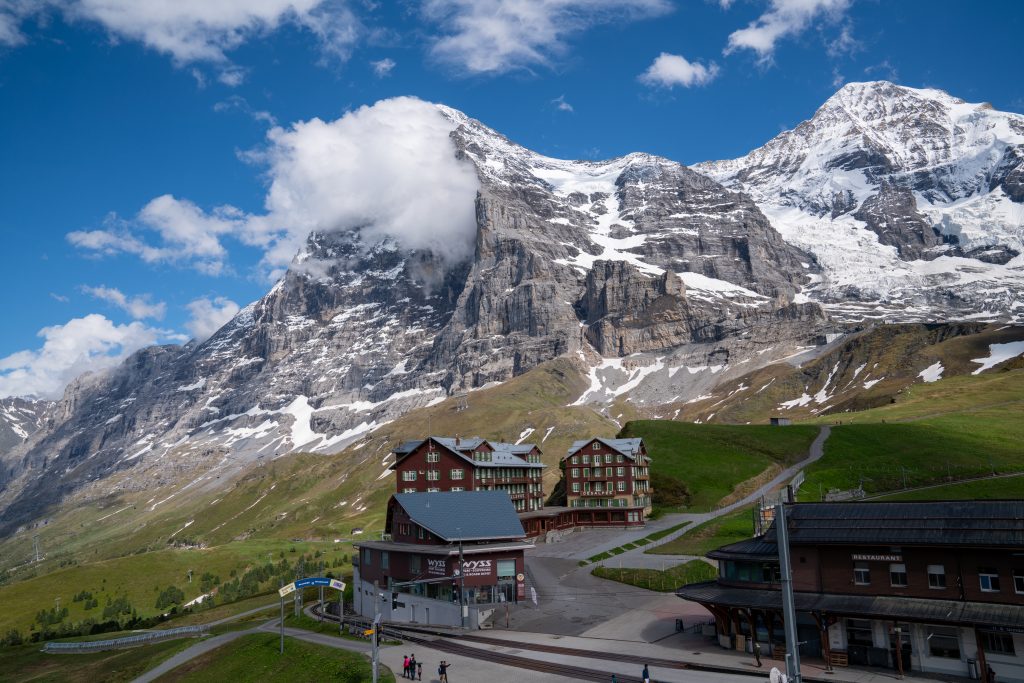 Transportation in the Jungfrau Region
Because I already knew that we would not be able to reach many areas by car, the solution was the train and the cable cars. I found out that there are Travel Passes, subscriptions for public transport. There are several, but I read about:
Jungfrau Travel Pass
Bernese Oberland Regional Pass
Swiss Travel Pass
The Jungfrau Travel Pass suited us best, which we bought online for a durations of 3 days – day 1 and day 5 of our trip were also days of travel to/from Romania, so we only kept the full days of the holiday for the travel pass, which is quite expensive – 188 Swiss francs (CHF) per person for 3 days. 3 days is also the minimum number of days for this travel pass.
What is covered by Jungfrau Travel Pass
All of the following, with two exceptions:
All trains from Jungfrau Region
All cable cars in Jungfrau Region
All buses from Jungfrau Region
Cruises on Lakes Brienz and Thun
Exceptions:
Train Eigergletscher – Jungfraujoch Top of Europe, which is not included but has a 50% discount with this Jungfrau Travel Pass
Mürren – Schilthorn cable car, which is not included but has a 25% discount with this Jungfrau Travel Pass
Here you can read more details about Jungfrau Travel Pass.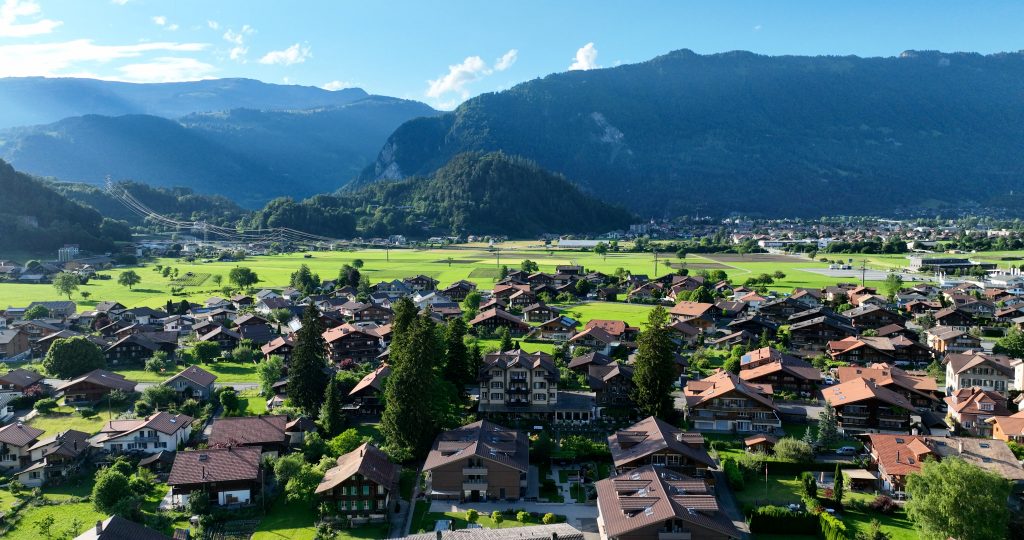 Accommodation in Jungfrau Region
As an accommodation, we chose the village of Wilderswil – after much research, it seemed the most suitable for exploring the whole area. It is a mix between Interlaken and the more remote mountain villages – that is, it is a quiet mountain village, overlooking the mountains, but with the excellent public transport connections that Interlaken offers. From here we easily visited all the villages and mountain areas we wanted to.
In Wilderswil, we chose Alpenrose Hotel and Gardens, just a 2-minute walk from Wilderswil Train Station (200m). Just perfect for our Jungfrau Travel Pass and exploring plans! We had a room with a balcony and a view of the Jungfrau, the highest peak in the Jungfrau Region, and the hotel's beautiful gardens. An amazing image to wake up to. We could hear the birds and the murmur of the fountain in the garden all the time, we relaxed every morning and evening after visiting. We also had a jacuzzi in the garden, which was exactly what we needed after long days of exploring the Swiss Alps.
Breakfast, a swedish buffet, had a little bit of everything: local charcuterie and cheese, fresh bread, latte macchiato, cereals, pastries, yogurt and even champagne. We started the day off right, always. Breakfast is included in the accommodation price.
For dinner, we also opted for the hotel restaurant, in the building next door – Edelweiss, where hotel guests have a 10% discount, if you book the rooms on their website – Alpenrose Hotel and Gardens.
And if you want a 10% discount on the accommodation, you get it when booking directly by email at info@alpenrosehotel.ch.
If you don't like any of the above options, you can also make a reservation on Booking.com, where you can also read more reviews:
Another bonus – you will receive from the accommodation a card with discounts throughout the Jungfrau Region, for various activities – there are dozens of discounts, I don't remember them all. What we were advised to do: always show that card, everywhere, and where there's a discount, it will be applied.
In addition, during our stay there, we had all the buses in the Interlaken area free of charge – we used one when we returned from Isetwald, as a connection to the train in Interlaken Ost. Very useful!
We spent three nights at this hotel in Wilderswil, and after exploring the area, we moved. We spent the last night in a remote area that can only be reached by cogwheel train.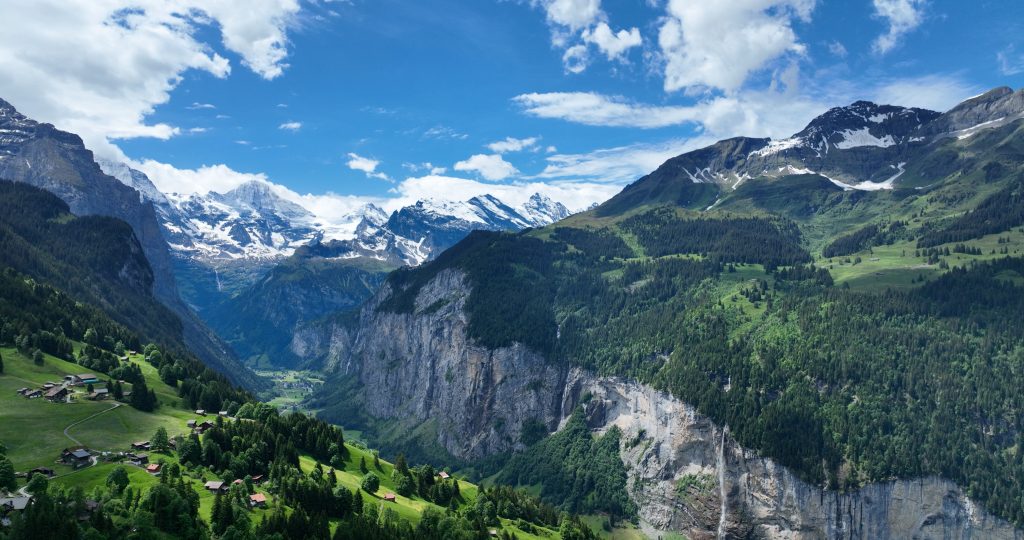 Food in Jungfrau Region
Breakfast was included in both accommodations, buffet, excellent in both cases. We always had dinner at the hotel where we were staying – at the second one, it was included in the price of the accommodation, and at the first one, Alpenrose Hotel and Gardens, it was convenient to eat right in the hotel, after a long day of exploring.
We ate lunch wherever we were at lunch time:
On the first day, at Jungfraujoch – there are 3 restaurants here, but only one was open, the self-service one. The food was ok, not great, around 22 CHF a main course.
The next day, lunch caught us at Schilthorn, where the famous Schilthorn Piz Gloria restaurant is also located, the one that rotates slowly, so that you can see the 360 ​​view of the area while eating, very special. The famous James Bond movie was shot here in 1969, so that's the theme of the place. You can either serve something from the menu or buy a buffet brunch. In general, a reservation and a ticket are required, cable car + brunch can be purchased in advance. We did not book or buy tickets in advance, we wanted to buy the cable car ticket on the spot, to be able to apply the Jungfrau Travel Pass discount, which is not included when you buy a brunch package. On the spot we bought this brunch. With the reservation of the meal (or lack thereof) it was ok, but that's because the weather wasn't too good, we mostly had fog and no views. However, the food was delicious, I recommend it. The price is CHF 35 per person: soups, cold and hot dishes, natural juices, good coffee, everything you need. But I think the view is the most valuable. You can book here, the brunch is called James Bond Brunch.
On the 3rd day of exploring, we had lunch at high altitude, also with a fairytale view – at the restaurant on First – Grindelwald. It's also a self-service restaurant. We had a yummy goulash and a delicious cheesecake. We liked it.
That's about it for the planning of our first holiday in Switzerland, but we will soon return with the detailed itinerary of the Jungfrau Region, the story of our experience from the last accommodation and the costs of the trip.
Safe travels!